HISTORY of BELL HELICOPTER
ARMY UH-1H # 70-16369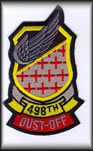 1971 - Delivered to the U.S. Army and assigned to the 498th
Medical Company, 369 would fly as an Air Ambulance "Dustoff"
aircraft. The 498th was deployed as a company to Vietnam in
1965 and returned to the U.S. (Ft. Jackson, South Carolina) by 1972.
We look forward to meeting anyone who knew her!

1976 - Transferred to the 3/507th Medical Company, Fort Hood,
Texas, where she continued her Medevac tradition in the state of


Texas

, where she was born.

1980 - Transferred to the Army National Guard, Decatur, Illinois,
where devoted maintenance personnel kept her airworthy and air
crews remained proficient in their flying skills.

1995 - Transferred to the Army National Guard, North Canton, Ohio,
where her career in the Military would come to an end.

2001 - Like most Army Hueys, "369" was retired by the Army to
make way for the new Sikorsky UH-60 Blackhawk Helicopter and
was transferred by the General Services Administration (GSA)
to the state of Maine. For the next four years, "369" would be maintained by a Not for Profit search and rescue organization,

DEEMI (Down East Emergency Medicine Institute). DEEMI currently flys a former Army UH-1H Helicopter in the the state of Maine. Click here to view photo.

2005 - American Huey"369" was acquired from DEEMI and her new
owners trailered her 1,300 miles from Bangor, Maine, to her new
home in Peru, Indiana. Her members will preserve her to flight
condition in her hanger/museum, so she may educate current and
future generations to the history of THE AMERICAN MADE HUEY!
Army UH-1H # 63-08803
1964 - Delivered to the U.S. Army Fort Benning, GA
1965 - Arrived in Vietnam September 1965, 1st Cav., 15th Med. BN.(APO 96490). Flew as a Medevac Air Ambulance for the first two years in Vietnam.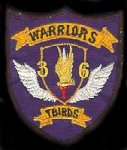 1967 - Transferred to Soc Trang, to the 336th Assault Helicopter Company (Warriors and T-Birds) "Warrior 11" flew as a slick.
1968 - On March 8, 1968, crash landed in a burning LZ, skids ripped off, a.c. shut down, restarted and flown 45 minutes back to Soc Trang and landed on sand bags Click here to view photos. Later that month 803/Warrior 11 would be shipped back to ARADMAC, N.A.S., Corpus Christie, Texas, for complete overhaul repairs and inspections (completed September 13, 1968).
1969 - Transferred back to Fort Benning, Georgia

.
1972 - Converted from a D model to an H model
1976 - Transferred back to AASF1 MA (Otis ANGB) where she would fly for the next 18 years in the Massachusetts Army National Guard. We thank all the men and women who spent 18 years maintaining and flying her. Honorably we mention; Bruce Martin, A. Tavilla, David Karakeian, Richard R. Mogeau, Richard Lothrop, Larry Mayer, Anthony Mimmo, David A. Carvalho, James D. McCabe, Henry W. Brilliant, Andy Chamarro and many more!
1995 - Retired by the Army she was released to the state of New York GSA and was transfered to the Burgard Vocational High School in Buffalo, New York. Principal Thomas P. Kopera, Congressman John LeFalce, his daughter and her husband Michael Barnes (instructor), would be responsible for 803's acquisition and future care. Click here to view photo. Eight years later, this rich in history Huey would be donated to the Niagara Aerospace Museum, Niagara Falls, New York.
2005 - Thanks to Mr. Raymond T. O'Keefe (Executive Director of Niagara Aerospace Museum) and his committed board members, this great Icon, this three-year Vietnam Veteran Huey, this Medevac 1st Cav-15th Med BN/336th AHC Warrior 11, this 18-year MA AANG Iroquois would be donated and rescued from the outdoors by the members of American Huey 369!
2005 - 2007 Restored as a static display and trailered to various Vietnam Veterans events, 803/Warrior 11 would give thousands of Veterans/Patriots the opportunity to see, touch and sit in her sacred airframe. Click here to view photos in gallery.
IMPORTANT - After achieving our goal of the restoration of 369 back to flight, the decision was made in October 2007 to restore 803/Warrior 11 back to flight as well. Your membership/donation helped guarantee this monumental task!
2007 - 2009 After 18 months and several work weekends, 803/Warrior 11 would take to the skies again! On July 16th, 2009, 803/Warrior 11 completed it's ground and flight M.O.C.'s (maintenance operation checks) at the hands of Mr. Paul Wheeler, our own Vietnam Army Maintenance check pilot. This monumental task was made possible by our Veterans, members, donors, sponsors and our very experienced maintenance personnel. On July 17th, 2009, 803/Warrior 11 would join American Huey 369 in their first official formation flight to Thunder Over Michigan at the Willow Run Airport in Belleville, Michigan. Both aircraft will educate future generations for years to come!

U.S. Army UH-1B 64-14049
SACRIFICE IS MEANINGLESS WITHOUT REMEMBRANCE!
John and Alan Walker (brothers and business partners) of Peru,
Indiana, are the founders of AMERICAN HUEY "369" and are
committed to remembering our Veterans and the Huey aircraft
they depended on while in Vietnam. John was a U.S. Marine Corp
helicopter pilot and Captain who flew the UH-1E and UH-1L model Huey, first in flight school and would later be assigned to the HMH-361 squadron to fly the Sikorsky CH-53 helicopter. Alan, an example of a Great Patriot who did not serve but has always supported the troops, excels in his Management and Human Relations skills.


As Proof of this Organizations commitment to Preserve, Educate and Pay Tribute to our Veterans, the following has been acquired:

1. 10 UH-1H and 1 UH-1B BELL ARMY "HUEY" Helicopters, all Vietnam vintage with combat history.
2. A Museum/Hangar located at 1697 W.Hoosier Blvd. (Hanger 11), Grissom Aeroplex, Peru, Indiana 46970.

3. A 40x60 foot Restoration Hangar in Peru.

4. Many Vietnam vintage vehicles and artifacts.

5. An ever growing library of books, pictures and movies that will
help tell the Vietnam War story.

Since beginning this project in 2004, hundreds of hours of restoration work and thousands of conversations with Veterans, their families and the general public (most of whom are now members of AMERICAN HUEY 369 ORGANIZATION), all agree and recognize the AMERICAN HUEY HELICOPTER to be the ICON of all Helicopters and the most POWERFUL SYMBOL of the Vietnam War. In just 12 short years American Huey 369 Organization has grown to over 13,400 members with over 150 core volunteers / aircrew.


ALL PATRIOTS ARE WELCOME!
TO ALL VETERANS THANK YOU!
AND
WELCOME HOME!
ANYONE CAN BE A MEMBER!
BECOME PART OF HER HISTORY
TODAY!!